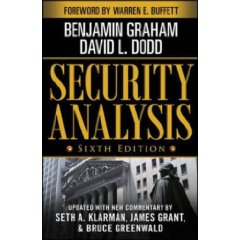 Press Contact: Kristin Aguilera, Communications Director, 212-908-4695
New York, NY – On Wednesday, October 15, the Museum of American Finance will continue its 2008 Henry Kaufman Financial History and Practices Lecture/Symposia Series with a talk by James Grant, a guest editor of the 75th anniversary edition of Security Analysis. The program will be held from 5:30 – 7:00 pm in the Museum's education center, located at 48 Wall Street. The presentation will be followed by a Q&A session, book signing and reception.
Admission is free for Museum members and costs $15 for non-members. Working members of the press will be admitted free of charge. Reservations are required; for information or reservations contact Lindsay Seeger at 212-908-4110 or lseeger@financialhistory.org.
About the Book
Benjamin Graham and David L. Dodd's Security Analysis, first published 75 years ago, forever changed the theory and practice of successful investing. Written in the midst of the Great Depression and in the wake of the 1929 stock market crash, the book convinced the nation that stocks were still worth buying and became the bible for generations of investors. Its timeless advice is as relevant today as when it was first published.
James Grant, founder and editor of Grant's Interest Rate Observer, is one of four guest editors of the 75th anniversary edition of Security Analysis, which features a foreword by Warren Buffett. Grant has been writing about markets and financial figures for over 30 years and is the author of five books, including biographies of financier Bernard Baruch and President John Adams. He is a founding general partner of Nippon Partners, a hedge fund investing in Japan. Grant's introduction to this edition of Security Analysis takes the reader back to Graham and Dodd's era to put the book in historical perspective.
About the Museum of American Finance
The Museum of American Finance, an affiliate of the Smithsonian Institution, is the nation's only public museum dedicated to finance, entrepreneurship and the open market system. With its extensive collection of financial documents and objects, its seminars and educational programming, its publication and oral history program, the Museum portrays the breadth and richness of American financial and economic history.