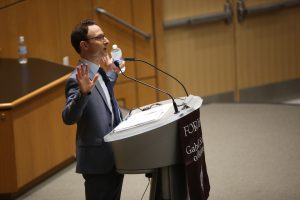 GabelliConnect
Two compelling stories unfolded at the Fordham University McNally Amphitheater on Wednesday evening, March 4.
One was how Jim Simons and his colleagues at the firm Renaissance Technologies became "the greatest money makers in the history of modern finance." The other: the experiences of Wall Street author Greg Zuckerman during the writing of his bestseller, "The Man Who Solved the Market: How Jim Simons Launched the Quant Revolution" (Portfolio/Penguin, 2019).
During the event, sponsored by the Gabelli Center for Global Security Analysis in partnership with the Museum of American Finance, Zuckerman explained his reasons for writing the book.
For one, he was intrigued by Renaissance's "ridiculous and impressive track record." Yet, Simons and his colleagues could not be described as traditional Wall Street investors. Their success, in part, resulted from pioneering quantitative investing. They've become hugely successful by using mathematical models to select winning investments, rather than through the traditional intuition, judgment and research approach.
Simons and his colleagues also pioneered data. They acquired, digested and cleansed data years before the phrase "big data" was even thought of. In addition, they developed predictive algorithms, which are now used daily by business behemoths like Amazon, Netflix and Facebook.
On a visceral level, Zuckerman felt it necessary to address a theme he characterized as "so important to many of us and one that we wrestle with, to a large extent: how really wealthy people have this outsized impact on society."
Read full article here.