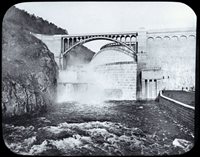 New Croton Dam Spillway, 1907. Photographer P. P. Pullis, Bureau of Water Supply Collection, NYC Municipal Archives.
By Maura Ferguson and Sarah Poole
The Museum of American Finance (MOAF) and the Municipal Archives have opened a new exhibit: "Ebb & Flow: Tapping into the History of New York City's Water," in the 31 Chambers Street gallery. The exhibit explores the more than 200-year history of the city's effort to build one of the world's finest water supply systems. As part of the exhibit, co-curators, Maura Ferguson, Director of Exhibits, MOAF, and Sarah Poole, Collections Manager, MOAF tell the fascinating story of how a private water company, founded by Aaron Burr in 1799, evolved into the largest bank in the United States today.
Read full blog post here.