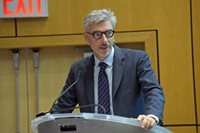 Jean-Yves Fillion, CEO of BNP Paribas USA, speaks about recent BNP Paribas projects that drove sustainability and were embraced by both banks and investors.
By Michael Benigno, GabelliConnect
Just a few days before NYC Climate Week was set to begin, CEOs and academic thought leaders on corporate sustainability took part in a Sustainability Panel at the McNally Amphitheater, underscoring the potential for finance and private wealth to be recognized as important agents for social and environmental change.
The program was part of the Museum of American Finance Evening Lecture Series in partnership with Fordham Gabelli School of Business.
For a long time, climate change had been viewed as a massive, public problem. But as the demand for environmental, social and governance (ESG) information grows among investors, many corporate leaders are becoming increasingly motivated to adopt business strategies that serve the public good.
Jean-Yves Fillion, CEO of BNP Paribas USA, highlighted recent BNP Paribas projects such as one with Italy's largest electric utility to directly fund renewable energy, and another with the government of Chile to launch the first sovereign green bond in Latin America, which together attracted some $5 billion of interested investors.
"Clients are leaning toward action, and we need to motivate more companies to embrace the path to becoming green – banks and the funding are there," Fillion said. In 2017, all BNP Paribas offices across 72 countries became carbon neutral.
Read full article here.