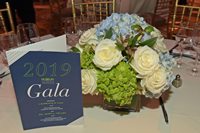 Photo credit: Elsa Ruiz
By Anthony Noto, New York Business Journal
This week, the Museum of American Finance held its annual gala at Cipriani Wall Street on Tuesday, Feb. 5.
The event honored Janet Yellen, former chair of the Federal Reserve Board and distinguished fellow in residence at The Brookings Institution, with The Whitehead Award for Distinguished Public Service and Financial Leadership.
At the gala, BlackRock chair and CEO Laurence Fink was presented with the Charles Schwab Financial Innovation Award.
All proceeds from the event benefitted the museum, which is touted as the only independent public museum dedicated to preserving and exhibiting American financial history
Located in the Financial District in Manhattan, New York City it is an affiliate of the Smithsonian Institution.