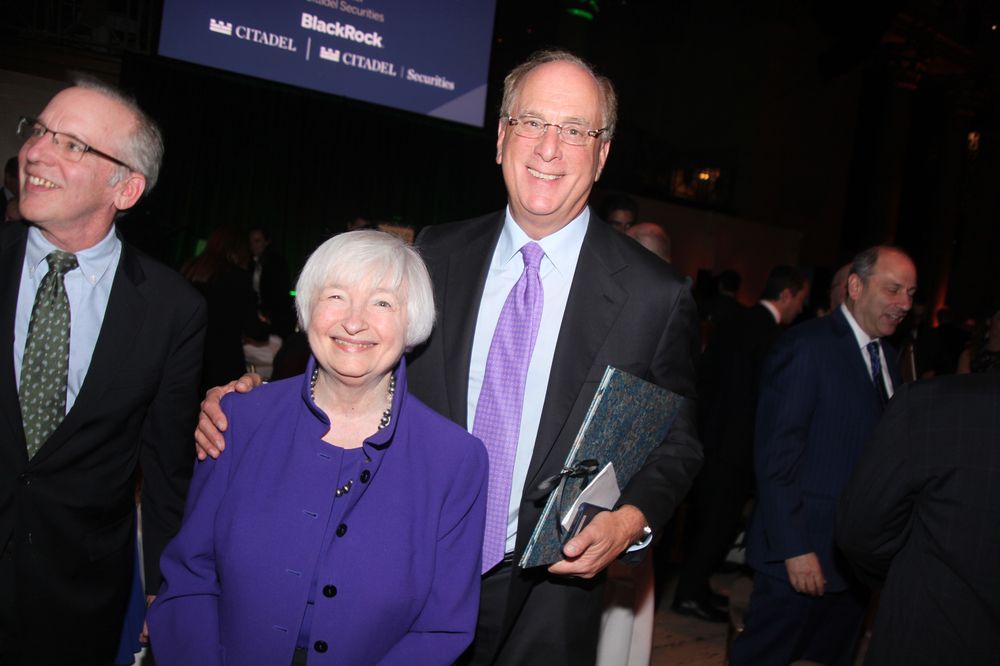 Photographer: Amanda Gordon/Bloomberg
By Amanda Gordon, Bloomberg
Larry Fink accepted the Charles Schwab Financial Innovation Award from the Museum of American Finance Tuesday night, but not before being called out for his connection to Maroon 5, the band that has been raked over the coals for its halftime performance at the Super Bowl.
The subject came up thanks to Tom Donilon, chairman of BlackRock Investment Institute, who had the role of introducing Fink.
"What's the connection between Larry and the Super Bowl?" asked Donilon, former national security adviser to President Barack Obama. "A long time ago, Larry helped start and finance a record company, and the first act they signed was a band called Maroon 5. So although we are here to celebrate Larry this evening, we are also here to lay full responsibility on him for Sunday's Super Bowl halftime show. Thanks for that!"
When he came to the lectern, the BlackRock chief executive officer replied, "I really take no responsibility for the Maroon 5 halftime show. It was a great investment though. Made a lot of money. Anyway, let me move on. Tom, that was good, everybody now knows."
Fink then spoke for about 10 minutes in remarks that were delivered just as President Donald Trump was giving his State of the Union address.
Fink first praised former Fed Chair Janet Yellen, who was there to receive the Whitehead Award for Distinguished Public Service and Financial Leadership. "Her steadiness in the face of great political turmoil reinforced the world belief in the independence and strength of U.S. monetary policy," Fink said.
As a nod to the "innovation" in the title of his award, he recalled his involvement in creating mortgage-backed securities in 1976. "I'm very proud that in the '80s we helped lower mortgage interest rates by over 300 basis points." But by 2008 things had taken a turn, with these securities underwritten and repackaged in "irresponsible ways," leading to the global financial crisis, he said.
"That is why this museum has such an important mission, by studying what works in finance and what leads to crises, and hopefully we can build a system that is more stable, a system that is more dynamic, but most importantly, a system that creates economic opportunity for more Americans," he said. "In particular, we need to make sure that we, the finance industry, focus more on outcomes, or creating better long-term future for more investors."