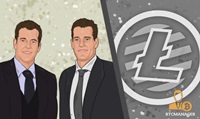 By Rahul Nambiampurath, BTC Manager
Speaking at an event hosted by the Museum of American Finance in New York on February 27, 2018, bitcoin billionaire Tyler Winklevoss along with his twin brother, Cameron, said that he supports the long-standing and popular argument in the industry that the leading cryptocurrency is a form of digital gold. Bitcoin and gold are both limited in nature, but bitcoin is better as it is more portable and secure.
He continued to say that Ethereum is the 'oil' to the protocol layer, on top of which developers can build applications. To continue this metaphor, he then described litecoin as the testnet of the Bitcoin network. Litecoin has also popularly been referred to as the silver to bitcoin's gold in the past. It uses the same core principles as bitcoin and was created to be a more user-friendly version of the older currency.
Litecoin is also coincidentally the same digital currency whose returns far exceeded the returns of bitcoin in 2017. As reported by Forbes, while bitcoin had risen a whopping 1,731 percent in 2017, it is dwarfed in comparison to the 7,291 percent price rise seen by litecoin.