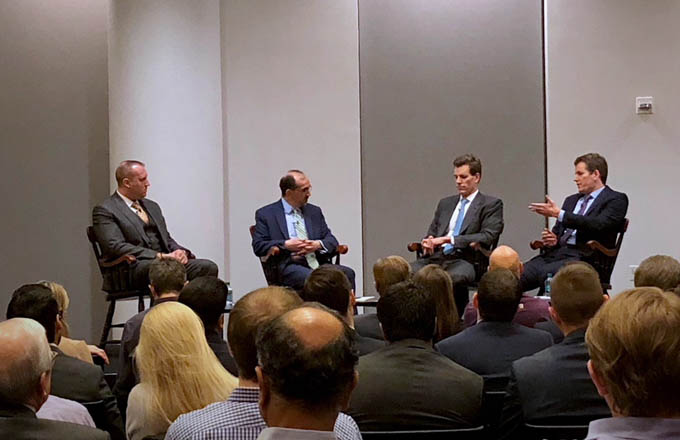 Josh Brown, Paul Vigna, Cameron and Tyler Winklevoss. Photo: Alex Kerr
By David Floyd, Investopedia
Speaking in New York City on Feb. 27, Tyler Winklevoss – co-founder, along with his twin Cameron, of the Gemini cryptocurrency exchange – lent his support to an argument that has long been popular among bitcoin bulls: the cryptocurrency is a form of digital gold. Both gold and bitcoin are scarce, he continued, fungible and divisible. Bitcoin, however, is "better at being gold than gold is," since it is much more portable: any amount of bitcoin can be held in a single string of numbers.
Winklevoss continued the metaphor, describing ether as a digital oil that fuels a protocol layer – the ethereum blockchain – on top of which decentralized applications using their own tokens can be built.
Asked if he agreed that litecoin is the "silver" to bitcoin's gold, a common trope, he said the fork more closely resembled a "testnet." These are simulated versions of blockchains that developers use to vet their designs without risking the loss of actual money. The reason he gave for this comparison was that litecoin is nearly identical to bitcoin, but with a much smaller market cap. (The only differences between bitcoin and litecoin protocols are in the hash algorithm, the time between blocks, and the rate at which block rewards halve.)
Another question courted controversy: an audience member asked if Gemini would consider adding bitcoin cash, a hard fork of bitcoin, to the exchange. Gemini currently supports only bitcoin and ether. The Winklevii – a nickname they said, in response to another question, that they do not mind – avoided giving an answer, but seemed to indicate that bitcoin cash support is unlikely, contrasting the contentious fork to litecoin's "friendly fork."
What to Do About ICOs?
Tyler and Cameron Winklevoss were speaking at an event hosted by the Museum of American Finance, with support from ING and Investopedia, which marked the release of The Truth Machine: The Blockchain and the Future of Everything by Michael Casey and Paul Vigna. The event also featured Josh Brown, CEO of Riholtz Wealth Management and blogger (as "the Reformed Broker"), and Joe Lubin, a co-founder of Ethereum and the founder of ConsenSys.
One of the evening's main disagreements – though the respective camps never sparred directly – was over the regulatory treatment of initial coin offerings (ICOs). Lubin, unsurprisingly, appeared to be the party most in favor of ICOs as an innovative approach to raising capital. He objected at one point to the suggestion that ICOs are unregulated, insisting that they are, and advocated a self-regulatory model in which participants in the cryptocurrency community assemble a central (but presumably decentralized) repository for information about the various projects offering tokens. He compared the concept to the Security and Exchange Commission's (SEC) EDGAR database.