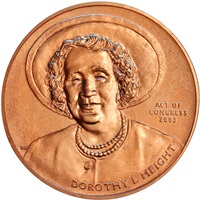 Dorothy Height bronze medal, courtesy of the Museum of UnCut Funk.
Liz Daly's Culture Digest
Coins and bills may seem to be just a way we pay for things, but they have a psychic and symbolic weight that belies their physical heft. Just think about the debates around imagery when the Euro was created, or the more recent dust-up over changes to the U.S. $20 bill.
It was against this backdrop that the Museum of American Finance opened its newest exhibit, "For The Love of Money: Blacks on US Currency," featuring coins, medals and medallions bearing images of Black icons, historical events, and institutions central to American history.
The exhibit comes from the Museum of UnCut Funk, a virtual museum dedicated to 1970's Black Culture and Funk...