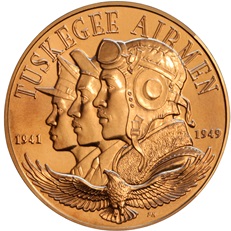 By Lynn Lieberman, Untapped Cities
Art has historically been a form of expression and a nonviolent way of showing political discontent. The installations and exhibits opening in March in New York City continue to speak to these issues from an in-depth exploration of the city's Muslim community, a non-partisan artist-created PAC, to a jukebox voicing social concerns. March will also give some much-needed relief too, in exploring the fantastical from the Gilded Age to aliens afterlife.
Here are 12 art installations and exhibits not to miss in March, including the annual Armory Art Week...
Honoring African Americans on US Currency at Museum of American Finance
The Museum of American Finance and The Museum of UnCut Funk close out Black History Month with a tribute to African American heroes, with the exhibit, "For the Love of Money: Blacks on US Currency." The 41 commemorative coins and medals on view depict the historical contributions of such beloved figures as Booker T. Washington, Jackie Robinson, Duke Ellington, Rosa Parks, Nelson Mandela, as well as historical events including anti-slavery token coins, Little Rock Central High School, Desegration, the Civil Rights Act of 1964 (silver dollar), and Selma to Montgomery Marches just to name a few.
It is indeed a fitting location for the exhibit, since Wall Street is the site of a former slave market. The above photo of the Tuskegee Airmen medal is a tribute to the nearly 1,000 black aviators that made up The Tuskegee Airmen. They formed the 332nd Fighter Group and the 477th Bombardment Group. They were, however, segregated units of the U.S. Army Air Corps during World War II. Their success paved the way, in 1948, for President Truman to declare through Executive Order, that there shall be equality of treatment and opportunity for all persons in the armed services without regard to race, color, religion or national origin.
Each of the images on view gives a complete history of the person or event, documenting the commemorative legislation that led to the coins and medals, and the extraordinary contributions that each made to our country. It is worth noting the recent news of continued recognition of African-Americans with the U.S. Treasury Department announcing the redesigns of the $5, $10, and $20 bills which will hold the images of Harriet Tubman, Dr. Martin Luther King, Jr., and opera singer, Marian Anderson, as well as a vignette of suffragette's depicting the 1913 Women's Right to Vote March.
"For the Love of Money: Blacks on US Currency" is curated by Loreen Williamson and Pamela Thomas of The Museum of UnCut Funk, and Maura Ferguson, Director of Exhibits at The Museum of American Finance, an affiliate of the Smithsonian Institute. The museum is located at 48 Wall Street, corner of William Street, and the exhibit will be on view through January 2018.