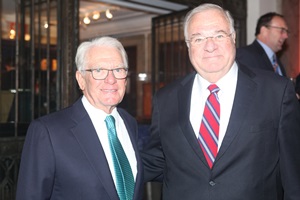 By Amanda Gordon, Bloomberg
Different takes on how finance makes America great had about 450 guests perking up their ears Wednesday evening.
Two perspectives came from the honorees at the annual gala of the Museum of American Finance in New York: Larry Summers, former Treasury secretary under President Bill Clinton and director of the White House National Economic Council in the Obama administration, and Joe Ricketts, a billionaire entrepreneur and Republican donor who backed President Donald Trump, and whose son Todd has been appointed deputy Commerce secretary.
Neither honoree referred to Trump directly, but their pointed words in the second busy week of Trump's presidency were hard to miss.
"It was two political speeches from different sides of the aisle," said Tim Hockey, chief executive of TD Ameritrade, as he picked up his coat at the end of the evening.
Guests included hedge-fund titans Paul Singer, Ray Dalio and Ken Griffin, whose Citadel Securities is TD Ameritrade's market-maker...