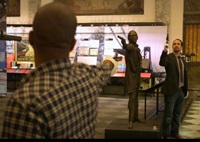 By Ruthie Fierberg, Playbill.com
On October 21, the Hamilton documentary, Hamilton's America, premiered on PBS as part of the network's Great Performances series.
It might be the biggest debut since the opening night of its subject. The documentary is as much a retrospective of the original company of actors who created Hamilton's characters as it is a deeper dive into Alexander Hamilton's life—using the actors' historical discovery process as a device to teach America even more about the ten-dollar Founding Father.
While Hamilton is being used as a teaching device and reawakening the US to its own beginnings, here are 21 things Hamilton's America taught us about Lin-Manuel Miranda's creative process, the artists who made Hamilton and the man who inspired it all:
...#19: Miranda can't help but rap, even when reading Hamilton's words.
During a visit to the Museum of American Finance, Miranda and Odom, Jr. read letters of correspondence between Hamilton and Burr—the letters that contributed to the duel that killed Hamilton. As Miranda reads Hamilton's words in the film, he can't help but slip into the rhythmic speech of his character.