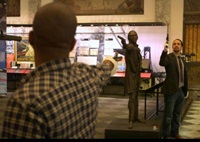 By Natalie Stone, People magazine
On Friday, Hamilton audiences will get to take an inside look at the making of Lin-Manuel Miranda's masterpiece in the documentary film, Hamilton's America.
In a People exclusive sneak peek, viewers will follow the creator and star of the Broadway hit as the film — which has been three years in the making — delves even deeper into the creation of the show, revealing Miranda's process of absorbing and then adapting Alexander Hamilton's epic story into groundbreaking musical theater.
The clip also documents the cast delivering a performance of "The Room Where It Happens" for President Barack Obama at the White House, and follows Miranda and costar Leslie Odom Jr. visit the Museum of American Finance to get a deeper understanding of the historical figures they depicted on stage...