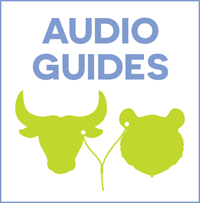 The View From Downtown blog
The Museum of American Finance's new, 12-stop audio tour tells the stories behind several of its most popular collections and exhibits. The tour begins with one of Lower Manhattan's most important architectural sites – the Bank of New York's historic banking hall at 48 Wall Street, which houses the Museum's exhibits.
Other tour stops include objects from the Crash of '29, a stock certificate issued to Ponzi scheme artist Bernie Madoff, rare high-denomination currency and the solid gold-and-jewel-encrusted Monopoly Set by artist Sidney Mobell (on loan from the Smithsonian's National Museum of Natural History). The tour is narrated by a variety of experts, including the Museum's president and curators, as well as CNN founding financial editor Myron Kandel and architectural historian Damien Cregeau...