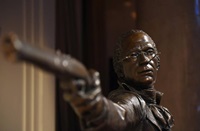 By Mary Jacobs, The Dallas Morning News
Broadway isn't the only New York neighborhood where Hamilton is hot.
Historic Alexander Hamilton landmarks around Manhattan are enjoying a tourist miniboom, thanks to the musical, which won 11 Tony Awards at last week's ceremony.
As America's first Secretary of the Treasury, Hamilton helped put the United States on a path to economic superpower. Thus the Museum of American Finance dedicates a room to his story, recounting how he saved the new nation's credit, established plans for funding its debt, created a national bank and used the tax system to encourage economic development — all ideas considered "radical" at the time...