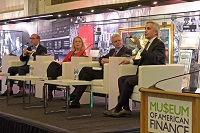 By David Floyd, Investopedia
On Thursday evening, March 10, 2016, a panel of experts on aging, longevity and retirement gathered at the Museum of American Finance on Wall Street to discuss the economic impact longer lifespans will have on everything from Social Security to robotics to the non-profit sector. Three major themes emerged from the discussion, which went beyond the usual focus on healthcare: the sheer magnitude of the demographic shift, the surprising role technology will play in aging and the opportunities it presents, and the cultural changes we'll need to make to respond to how the world is being remade.
The event, titled "The Longevity Bonus: The Economic Impact of the Retirement Megatrend," was sponsored by Bank of America Merrill Lynch (BAML) and Investopedia. It began with a conspicuously fire-less fireside chat between BAML's Head of Global Wealth and Retirement Solutions Andy Sieg and Senator Bob Kerrey, now a managing director of Allen & Company, who represented Nebraska from 1989 to 2001 and was president of The New School (2001-11). The panel discussion that followed was moderated by Jonathan Clements, a former personal finance columnist at The Wall Street Journal. The participants were Joseph Coughlin, director of MIT's AgeLab; Michael Hodin, CEO of the Global Coalition on Aging; and Nora Super, chief of programs and services at the National Association of Area Agencies of Aging...