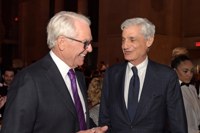 Photo: Elsa Ruiz
By Amanda Gordon, Bloomberg News
Among Powerball ticket holders for today's more-than-a-billion pot, count George Roberts, the 'R' of KKR & Co.
"I always buy a ticket," Roberts said Tuesday night at the Museum of American Finance annual gala. To be precise, he puts up the money and a buddy named Sam, who has worked for him for 26 years, buys the tickets. And his advice for a winner? "Buy some index funds, live frugally, give what you don't need away because other people can use it, don't try to do anything fancy, and don't invest with your friends."
Despite that last rule, Roberts has asked friends to invest with his firm, as he explained while introducing honoree Charles Schwab during dinner at Cipriani Wall Street (former Treasury Secretary Robert Rubin was the other honoree).
Early on in their friendship of more than 50 years, Roberts asked Schwab after one of their weekly tennis matches to invest $50,000 with KKR. Schwab said if he had $50,000, he'd invest in his own firm. "And obviously he's done very well with that," Roberts said.
Years later, Schwab enlisted KKR to help him buy back his company from Bank of America for $280 million. "Today, Schwab has a market cap of about $40 billion, so, pretty good deal Chuck," Roberts said.
The lesson: there are probably better ways to make a fortune than buying a lottery ticket...