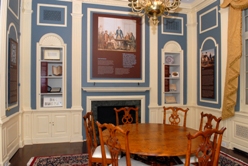 By Tanya Mohn, Forbes
Fans of the Broadway musical "Hamilton" (and those hoping to score coveted tickets) may be inspired to pay homage to and learn more about the man with humble beginnings who became America's first Secretary of the Treasury and one of the nation's founding fathers. New York State's tourism campaign, I Love New York, has assembled a listing of sites for a self-guided tour throughout the state where Alexander Hamilton lived and worked, places "that practically reverberate with the life and lyrics of "Hamilton." "For New Yorkers, it's especially exciting that most of the action took place right in their own back yard," the campaign noted.
Here is a sampling of the places on the "I Love New York" list and a few others that were once Hamilton's stomping ground:
New York City
Museum of American Finance – Check out the Alexander Hamilton Room at the museum at 48 Wall Street, built on the site of the bank Hamilton help found and New York City's first bank, the Bank of New York that began to conduct business in 1784. Visitors will see documents signed by Hamilton, examples of his published work, and medals, currency and other items designed in his honor. The museum notes that Hamilton's influence on the fledgling country's early finances "set the wheels in motion for the United States to become the economic super-power it is today," laying the foundations for the nation's capitalist system. "America's premier economic thinker," it noted, "saved the new nation's credit, established plans for funding our new country's debt, created a national bank, and used the tax system to encourage economic development – all ideas considered "radical" by most Americans of the time." The museum also features permanent exhibits on the financial markets, money, banking, and entrepreneurship.
Trinity Church – Hamilton is buried in Lower Manhattan at this church cemetery.
Hamilton Grange – In 1800, Hamilton began construction of his country home on Convent Avenue and 141st Street in the Hamilton Heights neighborhood in upper-Manhattan, which was completed shortly after his death in 1804 when he was fatally wounded in a duel with political rival Aaron Burr. The nearby historic Morris-Jumel Mansion, thought to be the oldest remaining house in Manhattan, is a museum highlighting over 200 years of New York history, art, culture, and where, in 1790, George Washington hosted a famous cabinet dinner; Alexander Hamilton was one of the guests.