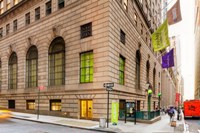 By Jenna Scherer, Curbed New York
No show in recent memory has taken Broadway by storm with quite the speed or spirit of Hamilton, Lin-Manuel Miranda's game-changing hip-hop musical about the life and death of the titular Founding Father. (The official cast recording is out today.) Alexander Hamilton's story is a classically American one; an immigrant kid who rose from nothing to become one of the most influential figures in Western history, his life reads like the American Dream before America even existed.
It's also a quintessentially New York story: Hamilton forged his life and fortune in a Manhattan that, even in those early days of the nation's history, was the place to be for an ambitious scrapper on the rise. "In New York, you can be a new man," the company sings in Hamilton's opening number. And many of Hamilton's former stomping grounds are places you can still visit today. Here's a brief rundown of the first Secretary of the Treasury's life in and around Gotham, from his arrival to his untimely death at the business end of a dueling pistol...
Museum of American Finance
Perhaps no other person has had so much influence on the American economic system as Hamilton. Not only was the guy the very first Secretary of the Treasury, he also was instrumental in establishing the United States Mint. His contributions are honored with a dedicated room at the Museum of American Finance, in the very same building that once housed the Hamilton-established Bank of New York. The space includes documents bearing Hamilton's John Hancock (no pun intended) and customized currency.