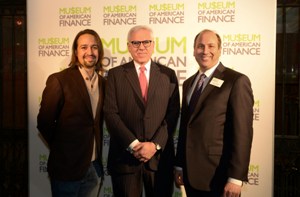 Photo courtesy of Elsa Ruiz
By Amanda Gordon, Bloomberg
The Museum of American Finance's gala last night brought out Bob Rubin, "the last Treasury Secretary -- and the last person in finance -- to be unanimously confirmed," said David Rubenstein, co-chief executive officer of Carlyle Group, as the two stood in the museum at 48 Wall Street.
Rubin clarified: the vote was unanimous, 99-0, with Senator Jay Rockefeller, Democrat of West Virginia, absent.
Those were the days.
Over the weekend, Lazard's Antonio Weiss withdrew from pursuing an undersecretary position in the Treasury to avoid a difficult nomination process stirred by anti-Wall Street Democrats led by Senator Elizabeth Warren.
Rubin and Rubenstein agreed that working in the profession is a decent qualification for government posts (Rubin left the helm of Goldman Sachs for his).
"I hope people won't get discouraged," Rubenstein said. "I hope people have enough wisdom to see they deserve these positions."
The museum itself may have a role in smoothing the way. John Herzog said he decided to found it the morning after the 1987 crash, when it hit him how few Americans probably understood what had happened. At the time he was chairman and CEO of Herzog, Heine, Geduld, a market maker in over-the-counter securities.
The museum has 50,000 visitors a year, Deputy Director Kristin Aguilera said.
Summers on Bitcoin
It has offered classes on financial products and the history of derivatives and is starting a financial literacy program for girls. An event on Feb. 11 will feature former Treasury Secretary Larry Summers in a "fireside chat" on Bitcoin. Current exhibitions cover the Federal Reserve, stocks, trading and banking.
"It would be good for people to understand how our financial system works, but it's complicated," Rubin said over the din of cocktail chatter.
Museum trustee Glenn Kaufman, who manages a family office (he is son of economist Henry Kaufman), said the museum helped him solve a conundrum.
"My kids ask me, 'Dad, what do you do?' I take them here and they get it," Kaufman said.