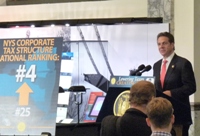 By Glenn Blain, New York Daily News
The fiscally conservative Tax Foundation, which a top Cuomo administration official once derided as a "right-wing think tank," is giving Gov. Cuomo an award for his tax policies.
Cuomo will receive the group's Outstanding Achievement in State Tax Reform Award at a press conference at the Museum of American Finance in Manhattan this afternoon, the foundation announced in a press release Thursday morning.
The group, in the release, said the state under Cuomo had "reduced unnecessary complexity in the corporate tax base" and lowered the corporate rate to its lowest level since 1968. The award comes at an opportune time for Cuomo, who is running for re-election and fending off attacks from Republican Rob Astorino that he has not done enough to improve the state's business climate.