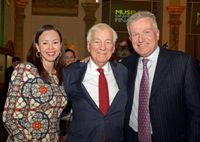 By Amanda Gordon, Bloomberg
Surrounded by artifacts from investing's past -- a New York Stock Exchange ticker tape from the morning the market crashed on Oct. 29, 1929, old Federal Reserve notes -- guests at the Museum of American Finance last night contemplated what would feature in exhibits of the future.
"IT guys," said Ivan Brockman, a senior managing director at Blackstone Group LP (BX) who works with technology companies.
"A BlackBerry (BBRY)," said Sarah Kadetz, a vice president at Blackstone, which her colleagues agreed has already earned its place.
"It will have to be interactive, so you can play with the data," said John Studzinski, a Blackstone senior managing director who's on the board of the museum.
Duncan Niederauer, chief executive officer of NYSE Euronext, predicted that "20 years from now, there might be a Bitcoin in here."
He also hopes that fewer people make the wrong assumption that the museum is focused on the stock exchange, given that it's just down Wall Street.
"We keep saying to the financial-services industry: this is your museum," Niederauer said. "I almost wish the museum is in midtown, because no one would confuse it with the visitor's gallery. It really is about American finance. The museum shows the evolution from when there was no technology to today."