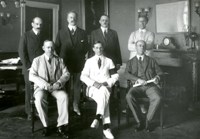 Courtesy Federal Reserve Bank of New York, Curating Section
By Sarah Todd, American Banker
While plenty of screenwriters have spun yarns about intrigue at the White House or the heart-pounding machinations of the FBI, few have ventured to tell a story about the Federal Reserve System, a complex agency that—for all the power it wields over the nation's economy and for all the recent interest in the future of its chairmanship—often seems lacking in scriptworthy personal narratives.
But at the September opening of "The Fed at 100," an exhibit at the Museum of American Finance commemorating the central bank's centennial anniversary, it was suddenly easy to start picturing the cinematic possibilities.
The museum, strategically located in the heart of New York's financial district, hosted a cocktail reception where Fed old-timers gathered in tight circles, recalling bygone traditions like the "milk squad," a team of dairy vendors who roamed the bank's floors in the 1950s, distributing glass bottles to scrawny-looking staffers. Creators of a screwball workplace comedy like "The Office" could build a whole episode around that.