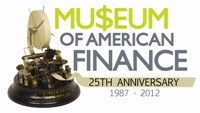 By V.L. Hendrickson, The Wall Street Journal
John Herzog wants to change people's financial lives.
That is why he founded the Museum of American Finance, which is celebrating its 25th anniversary this year. Mr. Herzog, the former chairman and CEO of Herzog Heine Geduld Inc., has donated more than $25 million to the museum over the years. On Friday the museum will mark the anniversary of "Black Monday" on Wall Street with a leadership symposium on restoring the faith of investors.