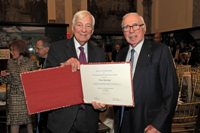 By Amanda Gordon, Bloomberg
Felix Rohatyn sat near a display case showing a gold Monopoly set last night at the Museum of American Finance, greeting admirers.
There was Vernon Jordan, a senior managing director at Lazard Freres & Co., and Martin Lipton, a founding partner of Wachtell Lipton Rosen & Katz.
A special adviser to Kenneth Jacobs, Lazard's chairman and chief executive, the 83-year-old Rohatyn was there to accept the museum's John C. Whitehead Award for Distinguished Public Service and Financial Leadership.
"I've worked with Felix for 40 years, starting when I was special counsel to the Municipal Assistance Corporation of the City of New York," Lipton said. As MAC chairman, Rohatyn helped pull New York out of a financial crisis in the 1970s...