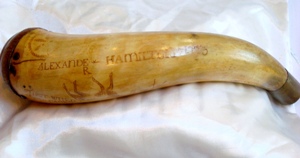 By Justin Rohrlich, Minyanville.com
Hard by a lunch cart with a sign taped to the side reading Corporate Accounts Welcome!, which may lend some credence to the tales of belt-tightening in the financial industry these days, is the Museum of American Finance, at 48 Wall Street.
The museum was presenting a "Lunch & Learn" seminar called The Hamilton Code, conducted by Dr. Warren Richman, who owns the powder horn used by Alexander Hamilton throughout his life, into which Hamilton carved several mysterious symbols.
After 20 years of research and investigation, Richman yesterday made his interpretations of Hamilton's inscriptions public for the first time at the MoAF. The venue is made even more appropriate by the fact that 48 Wall is the address at which Hamilton founded the Bank of New York (now BNY Mellon (BK)) in 1784, 11 years after the Nevis native arrived in the Colonies from the Caribbean island of St. Croix where his family moved when Hamilton was eight.