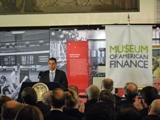 The Associated Press
Gov. David Paterson today continued to sound the alarm about the state's fiscal problems, warning that the state has exhausted its ability to close budget gaps with one-shot revenues and gimmicks.
Speaking at the Museum of American Finance on Wall Street, Paterson also offered a sympathetic voice to the much-maligned financial sector, saying the state relies on Wall Street revenue to pay for services across New York.
"Our issues in New York are tied to the progress and the ability of Wall Street to create revenues. The health of our financial sector directly affects the economic security of people in all corners of New York state," Paterson said.