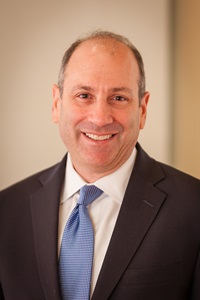 By David J. Cowen, President & CEO
Much has changed in New York City and throughout the world since my last letter to our supporters in the Winter edition of our digital magazine Financial History. As our city essentially shut down in early March, our Museum—like so many other institutions—needed to adapt its programming to continue to serve our audiences in safe and innovative ways.
On March 5, just before the city-wide shutdown, we opened "Ebb & Flow: Tapping into the History of New York City's Water," an exhibit produced in partnership with the NYC Municipal Archives that explores the history of bringing clean water to New York City while highlighting the story of the Manhattan Company (predecessor of today's JPMorgan Chase). Opening night included a live recording of Person Place Thing with Emmy Award winner Randy Cohen, and an interview with the commissioner of the NYC Department of Environmental Protection, Vincent Sapienza, now available as a podcast at https://personplacething.org/episode-302-vincent-sapienza/.
In response to the COVID-19 crisis, MoAF Chairman Dick Sylla, along with Financial History editorial board members Bob Wright and Janice Traflet, wrote the cover story of our magazine's Spring issue exploring the financial and economic impacts that previous pandemics have had on the United States. Our exhibit team adapted this article, "Pandemics & Epidemics: Financial and Economic Effects," into an online mini-exhibit that can be found at www.moaf.org/pandemics.
We continue to work closely with our partners at the Fordham University Gabelli Center for Global Security Analysis to bring our Spring and Summer lecture series online as virtual events. Our first virtual event was a full-day conference on Social Innovation on April 21, and webinars will continue through August. Most of these programs are free, and the schedule is available on our website at www.moaf.org/events and social media channels (@FinanceMuseum). We will continue to add to the lineup as new programs are scheduled.
On May 8, we launched a new video series exploring our collections and exhibits, now available on our YouTube channel (www.youtube.com/FinanceMuseum) and across our social media platforms. I am currently narrating these short video programs from home, and the first several videos take a close look at objects in our "Out of the Vault" exhibit. This traveling exhibit featured some of the most interesting artifacts in our collection, many of which had never previously been on public display.
And, in May, we moved our Museum Finance Academy for high school juniors and seniors to virtual sessions on Zoom. We expect to expand the virtual MFA program throughout the Summer and Fall.
During this difficult time for all of us, we continue to adapt and innovate to best serve our members, supporters, students and all our constituents with quality programming. Our priority is that we all stay safe and well. I look forward to seeing you online until we can once again meet in person.
NOTE: This letter originally ran in the Spring 2020 edition of Financial History magazine. The full issue is available at www.fhmagazine.org.