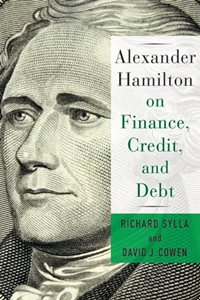 The paperback edition of Alexander Hamilton on Finance, Credit, and Debt, co-authored by MoAF Chairman Richard Sylla and MoAF President/CEO David Cowen, is now available as a paperback edition. Members, supporters and friends of the Museum will receive a 30% discount off the purchase price with promo code "CUP30" on the Columbia University Press website.
About the Book
While serving as the first Treasury Secretary from 1789 to 1795, Alexander Hamilton engineered a financial revolution. Hamilton established the Treasury debt market, the dollar, and a central bank, while strategically prompting private entrepreneurs to establish securities markets and stock exchanges and encouraging state governments to charter a number of commercial banks and other business corporations. Yet despite a recent surge of interest in Hamilton, US financial modernization has not been fully recognized as one of his greatest achievements.
This book traces the development of Hamilton's financial thinking, policies, and actions through a selection of his writings. The financial historians and Hamilton experts Richard Sylla and David J. Cowen provide commentary that demonstrates the impact Hamilton had on the modern economic system, guiding readers through Hamilton's distinguished career. The book showcases Hamilton's thoughts on the nation's founding, the need for a strong central government, confronting problems such as a depreciating paper currency and weak public credit, and the architecture of the financial system. His great state papers on public credit, the national bank, the mint, and manufactures instructed reform of the nation's finances and jumpstarted economic growth. Hamilton practiced what he preached: he played a key role in the founding of three banks and a manufacturing corporation, and his deft political maneuvering and economic savvy saved the fledgling republic's economy during the country's first full-blown financial crisis in 1792. Sylla and Cowen center Hamilton's writings on finance among his most important accomplishments, making his brilliance as an economic policy maker accessible to all interested in this Founding Father's legacy.
About the Authors
Richard Sylla is professor emeritus of economics and the former Henry Kaufman Professor of the History of Financial Institutions and Markets at New York University Stern School of Business. He is a research associate of the National Bureau of Economic Research and chairman of the Museum of American Finance. Among his books are Founding Choices: American Economic Policy in the 1790s (2011) and Alexander Hamilton: The Illustrated Biography (2016).
David J. Cowen is president and CEO of the Museum of American Finance. He is author of The Origins and Economic Impact of the First Bank of the United States, 1791–1797 (2000) and co-author of Financial Founding Fathers: The Men Who Made America Rich (2006).