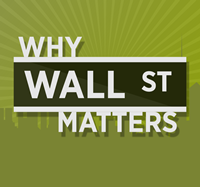 The Museum of American Finance and Cheddar have collaborated on a monthly video and interview series featuring C-Suite executives from across the financial industry. The two-part series includes CEOs discussing "Why Wall Street Matters," as well as C-Suite technology executives explaining how technology is impacting their companies and their industry segments in "Disrupting Wall Street."
The Series is featured on the Museum's YouTube channel and across its social media platforms. The participating executives, with such titles as CEO, President, Chief Technology Officer, Chief Digital Officer, Chief Information Officer and Chief Innovation Officer, also appeared on Cheddar.
Videos in the C-Suite Series can be accessed here:
"Why Wall Street Matters"
"Disrupting Wall Street: The Power of FinTech"
About the Museum of American Finance
The Museum of American Finance, an affiliate of the Smithsonian Institution, is dedicated to preserving, exhibiting and teaching about American finance and financial history. With its extensive collection of financial documents and objects, as well as its seminars, events, educational programming and publications, the Museum educates the public on the breadth and richness of American financial history, and its impact on current financial markets.
About Cheddar
Cheddar is a live and on demand video news network focused on covering the most innovative products, technologies and services transforming our lives through the lens of the companies and executives driving these changes. Broadcast daily from the New York Stock Exchange floor, Cheddar has a unique and live approach to news in technology, media and entertainment, with exclusive CEO and founder interviews, and profiles of the technologies and companies transforming our lives.