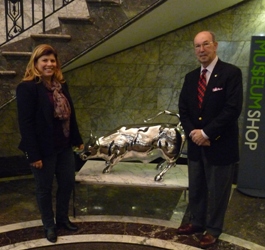 MoAF founder John Herzog with Gina Biancardi, president of Casa Belvedere.
On the evening of December 3, the Museum hosted the first showing of a new documentary film, "Lucky Balls," commemorating the 25th year that the "Charging Bull" sculpture by Arturo Di Modica has been at Bowling Green Park in New York City. Over the years, the sculpture has become one of the most popular attractions in Lower Manhattan and one of the most widely-recognized images around the world. The documentary will be entered in the Tribeca Film Festival next year, and eventually a wider distribution is anticipated.
The film screening drew some 200 people from the Museum membership and invited guests. Di Modica spoke at the event, as did the Polish producers of the documentary and Museum founder John Herzog, who is featured in the film.
While "Charging Bull" has become well-known around the world, there are also smaller editions of the beautiful sculpture. The Museum was fortunate in locating one of these, a 42" stainless steel model cast under Di Modica's direction. It is now on view in the grand entrance foyer of the Museum, graciously loaned by Gina Biancardi, the president of Casa Belvedere, a cultural organization on Staten Island. With this loan, the Museum is the first in the world to display DiModica's work. His other works are on outdoor display in Poland, Russia, China and elsewhere. "Charging Bull" will be on view at the Museum through March 2015.