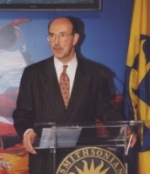 When Museum founder John Herzog became an Emeritus trustee on the Museum's 25th anniversary in 2012, the Board felt there should be some way to preserve the relationships which had been formed during the Museum's early years, many of which had a direct link to John and his wife Diana. The result was the establishment of a group called "Founder's Friends," which aims to foster these relationships while assisting the Museum financially through annual membership dues.
An administrative subcommittee of this group is planning a variety of activities and outings, including visits to historic sites in the New York metropolitan area, such as Kykuit (the Rockefeller estate), Jay Gould's home on the Hudson and the Edison laboratories in New Jersey. These trips will be open to members of Founder's Friends, with all proceeds supporting the Museum.
If you are interested in becoming a member of Founder's Friends, and either planning or simply attending the outings, please contact John Herzog at john@herzogandco.com. We welcome your participation.