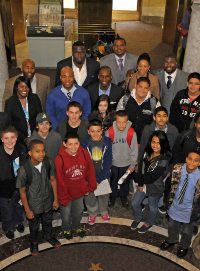 Photo courtesy of Elsa Ruiz.
On Friday, April 12, current and former NFL players studying for their MBAs spoke about the value of education and financial literacy to 7th and 8th grade students in the Museum's Center for Financial Education.
The students were visiting the Museum as part of its Title 1 Program. Sponsored by ING, the program enables children in low income communities to receive free tours and classes at the Museum, and also includes lunch and transportation. All of the football players who participated in the event are enrolled in the STAR EMBA program at George Washington University.