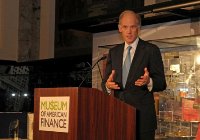 On January 8, the Museum honored William Harrison with the Whitehead Award for Distinguished Public Service and Financial Leadership at its 2013 Gala. The award, presented annually, is named after John C. Whitehead, former Deputy Secretary of State and co-chair of Goldman Sachs, who has headed numerous public service organizations.
Mr. Harrison is Former Chairman & CEO of JPMorgan Chase, where he retired as Chairman at year-end 2006. Previously he had held the position of CEO of Chase Manhattan Corporation from June 1, 1999 and presided over the mergers with J.P. Morgan in 2000 and Bank One in 2004. He serves on the Board of Directors of Lincoln Center for the Performing Arts, is a member of the Board of Overseers of Memorial Sloan-Kettering Cancer Center, a member of the Board of the National September 11 Memorial & Museum and a member of the Advisory Board of the Museum of American Finance.
View photos from the 2013 Gala here.