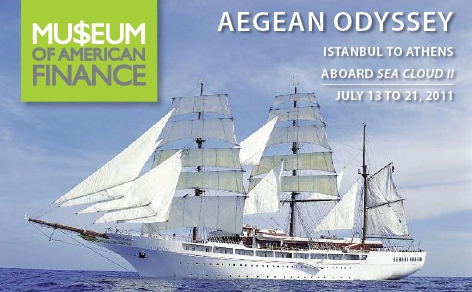 Dear Members and Friends,
Join me for an enchanting summer voyage along the coast of Turkey and through the Greek Isles. Our privately chartered sailing yacht, Sea Cloud II, slips easily into the small harbors and shallow bays of the Aegean Sea, carrying us to some of the most important sites of antiquity.
During our journey, I will be speaking on the economic history of the Mediterranean region from ancient to modern times. Also traveling with us will be Dr. Kathryn Calley Galitz, Assistant Museum Educator at The Metropolitan Museum of Art, who will lecture on the art and architecture of the cities we will visit.
Our program begins in the fabled city of Istanbul, where a highlight will be the Byzantine Church of the Savior in Chora with its exquisite mosaics. Then board the three­ masted Sea Cloud II and sail across the Sea of Marmara and through the Dardanelles. Step ashore in the lively port of Kusadasi and drive to Ephesus, one of the best­ preserved sites from antiquity. In the evening enjoy a special onboard performance by a quintet from the Izmir Philharmonic Orchestra.
Continue to Bodrum, where we tour the castle of St. Peter, home to an impressive array of antiquities recovered from ancient shipwrecks under the sea.
Then Sea Cloud II sails into the spectacular bay of Santorini for a visit to the whitewashed cliff­top villages of this volcanic island. On the tiny island of Delos, said to be the birthplace of Artemis and Apollo, see the Sanctuary of Apollo and the theater, as well as public squares, shops and villas, many displaying superb mosaic work. Sail to the lovely port town of Navplion to explore the nearby ruins of Mycenae before we disembark in Athens, where an optional post­tour extension features extraordinary architecture and incomparable museum collections. An optional prelude is also offered in Istanbul to visit Topkapi Palace, the 6th ­century basilica of Hagia Sophia, the Blue Mosque and the Museum of Turkish and Islamic Arts.
The luxurious Sea Cloud II combines comfort and a casual atmosphere with fine service. Tasteful surroundings and five­ star dining complement the heady experience of traveling under wind­lofted sails. I hope to welcome you aboard for this special voyage, co­sponsored by The Metropolitan Museum of Art and the National Trust for Historic Preservation.
Sincerely,
Dr. Richard Sylla
Chairman of the Board
Museum of American Finance