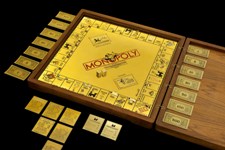 Photo courtesy of Alan Barnett
On October 15, the Museum unveiled the display of an 18-karat solid gold Monopoly set covered with hundreds of precious gemstones, on loan from the Smithsonian Institution National Museum of Natural History. The Smithsonian received the game as one of 20 jeweled art objects from the personal collection of world-renowned artist and jeweler Sidney Mobell. A long-time resident of San Francisco, Mobell is known for his fanciful and innovative employment of everyday household items as works of art.
Mobell and Museum President David Cowen unveiled the display at a press conference, which was followed by Monopoly tournaments for children and adults.
"We are thrilled to have this one-of-a-kind item and its creator here," said Cowen. "The game is symbolic to America and was popularized during the difficult economic times of the depression. We again face difficult economic times, and this incredibly valuable item will bring joy to our many visitors. We thank the Smithsonian for the object loan and Sidney Mobell for his inspiration."