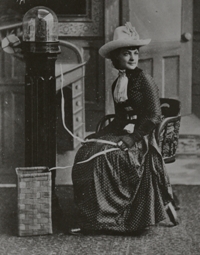 Saturday, May 9, 2020 | 11:00 AM to 12:30 PM
Event Location:
31 Chambers Street
1st Floor Gallery
NYC
PLEASE NOTE: THIS TOUR HAS BEEN POSTPONED UNTIL A LATER DATE.
Discover the female power brokers who have shaped the history of Wall Street on this 90-minute guided walking tour. Your guide will expose the women who dared to infiltrate this male-dominated industry. This tour highlights women such as Victoria Woodhull, who ran for President and opened the first woman-owned brokerage in 1870; Muriel Siebert, the first women to purchase a seat at the New York Stock Exchange; and many of the women who are moving and shaking the financial world today.
Tour meets inside the Museum's "Ebb & Flow" exhibit, co-presented with the NYC Municipal Archives, at 31 Chambers Street, and ends at the "Charging Bull" Statue/Bowling Green. $15 per person; MoAF members receive one free walking tour per year.
Please note: The Museum's walking tours are public tours and are not intended for groups. If you would like to book a private walking tour for your group, please contact Annaline Dinkelmann at tours@wallstreetwalks.com.