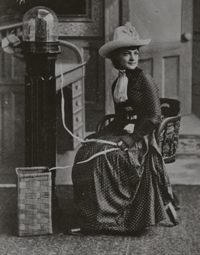 Thursday, March 26, 2020 | 11:00 AM to 12:30 PM
PLEASE NOTE: THIS TOUR HAS BEEN POSTPONED UNTIL A LATER DATE.
This tour is sponsored by Ninety One, in partnership with the Financial Women's Association (FWA), in honor of Women's History Month. The tour is FREE, and reservations are required.
Discover the pioneering women who have shaped the history of Wall Street. Your guide will

highlight

the leaders who dared to challenge and overcome historical boundaries in this male-dominated industry. The tour includes women such as Victoria Woodhull, who ran for President and opened the first woman-owned brokerage firm in 1870; Muriel Siebert, the first woman to purchase a seat at the New York Stock Exchange; and many other women who are making enormous contributions to impacting the financial world today.
Tour meets outside 48 Wall Street (at Bank of New York sign).
Please note: The Museum's walking tours are public tours and are not intended for groups. If you would like to book a private walking tour for your group, please contact Annaline Dinkelmann at tours@wallstreetwalks.com.