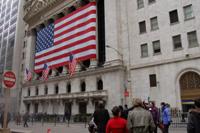 Saturday, August 11, 2018 | 11:00 AM to 12:30 PM
Join us for a 90-minute historical walking tour of the Financial District. Tour meets outside 48 Wall Street; $15 per person.
Please note: The Museum's walking tours are public tours and are not intended for groups. If you would like to book a private walking tour for your group, please contact Annaline Dinkelmann at tours@wallstreetwalks.com.