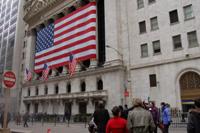 Friday, November 10, 2017 | 11:00 AM to 12:30 PM
Join us for a 90-minute walking tour of the Financial District in honor of Veterans Day. The tour will honor veterans from the 18th through 21st centuries, from George Washington's service in the Revolutionary War to the ticker tape parades commemorating soldiers returning from the two World Wars to a stop at the Korean War Memorial. $15 per person includes admission to the Museum and the Lunch and Learn with Sidney Rocke.
Please note: The Museum's walking tours are public tours and are not intended for groups. If you would like to book a private walking tour for your group, please contact Annaline Dinkelmann at tours@wallstreetwalks.com.