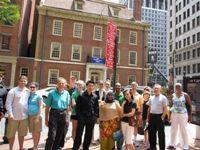 Thursday, September 7, 2017 | 11:00 AM to 12:30 PM
The Dutch Came to America during the 1600s to develop business and trade. Learn more about the early beginnings of Wall Street and the Dutch settlement of New Amsterdam during this 90-minute guided walking tour of the Financial District. $15 per person includes Museum admission.
Please note: The Museum's walking tours are public tours and are not intended for groups. If you would like to book a private walking tour for your group, please contact Annaline Dinkelmann at tours@wallstreetwalks.com.