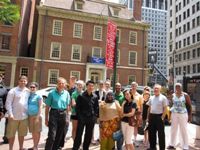 Saturday, August 12, 2017 | 11:00 AM to 12:30 PM
The first battle of the Revolutionary War took place in August 1776. Learn about George Washington and the American Army in Lower Manhattan. See where George Washington lived, worked and dined during this 90-minute guided walking tour of FiDi (the Financial District). $15 per person includes Museum admission.
Please note: The Museum's walking tours are public tours and are not intended for groups. If you would like to book a private walking tour for your group, please contact Annaline Dinkelmann at tours@wallstreetwalks.com.