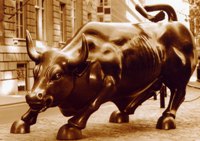 Saturday, December 20, 2014 | 1:00 PM to 2:30 PM
This week marks the 25th anniversary of the arrival of the "Charging Bull" in Lower Manhattan. Join us for this special walking tour focusing on the bulls and bears of Wall Street, and hear the story of how the bull arrived on Wall Street during the night and surprised everyone.
Please note: The Museum's walking tours are public tours and are not intended for groups. If you would like to book a private walking tour for your group, please contact Annaline Dinkelmann at tours@wallstreetwalks.com.