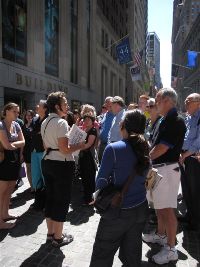 Wednesday, August 8, 2012 | 11:00 AM to 12:30 PM
The settlement of New Amsterdam was established for trade. Visit sites and remains of the Dutch colony and learn about early trading and how it evolved over 400 years to become modern Wall Street.
$15 tickets are available at the door and include admission to the Lunch and Learn event with David Cowen.
Please note: The Museum's walking tours are public tours and are not intended for groups. If you would like to book a private walking tour for your group, please contact Annaline Dinkelmann at annaline@wallstreetwalks.com.