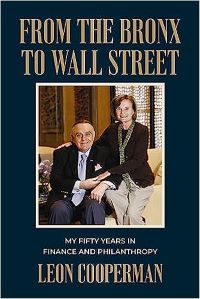 Thursday, September 7, 2023 | 5:00 PM to 7:00 PM
Event Location:
Fordham University – Lincoln Center Campus
140 West 62 Street, McNally Amphitheatre | Ground Floor
Please note: Registration is now closed for this event.
Wall Street mogul Leon Cooperman provides a brilliant business memoir encompassing a quarter-century with Goldman Sachs and then the management of his own successful hedge fund, Omega Advisors. Cooperman traces his life story from his roots as the son of immigrant parents in the Bronx through his days as an undergraduate at Hunter College, his subsequent graduate studies at the Columbia Business School, and beyond, all the way to his current role as a subscriber to Warren Buffet's "Giving Pledge" and a committed philanthropist engaged in giving away the entirety of his multi-billion-dollar fortune. Along the way, Cooperman also spells out his philosophies and "best practices" for stock research and investment, rooted in the classic value-investing approach originated by Benjamin Graham and David Dodd. Additionally, Cooperman makes an impassioned defense of capitalism as the best of all possible economic systems. Cooperman's narrative also includes meditations on taxes in general (and a wealth tax in particular) and challenges the thinking of political progressives who espouse policies which Cooperman believes would unduly restrain the free market.
Mr. Cooperman will be joined in conversation with Mario Gabelli, chairman and CEO of GAMCO Investors, Inc., the firm he founded in 1977. A 1965 summa cum laude graduate of Fordham University's College of Business Administration, Mr. Gabelli also holds an MBA from Columbia University Graduate School of Business, as well as honorary doctorates from Fordham University and Roger Williams University.
All attendees will receive a free copy of Mr. Cooperman's book, which the author will sign during a reception that will follow. This event is free, but registration is required and space is limited.
This event begins promptly at 5:00pm. Guest check-in starts at 4:15pm.