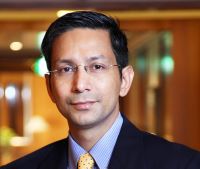 Wednesday, May 17, 2023 | 12:00 PM to 1:00 PM
The investment profession is in a state of crisis. The vast majority of equity fund managers are unable to beat the market over the long term, which has led to massive outflows from active funds to passive funds. Where should investors turn in search of a new approach?
Pulak Prasad offers a philosophy of patient, long-term investing based on an unexpected source: evolutionary biology. He draws key lessons from core Darwinian concepts, mixing vivid examples from the natural world with compelling stories of good and bad investing decisions—including his own. How can bumblebees' survival strategies help us accept that we might miss out on Tesla? What does an experiment in breeding tame foxes reveal about the traits of successful businesses? Why might a small frog's mimicry of the croak of a larger rival shed light on the signs of corporate dishonesty?
Informed by successful evolutionary strategies, Prasad outlines his counterintuitive principles for long-term gain. He provides three mantras of investing: Avoid big risks; buy high quality at a fair price; and don't be lazy—be very lazy. Prasad makes a persuasive case for a strategy that rules out the vast majority of investment opportunities and advocates permanently owning high-quality businesses.
Combining punchy prose and practical insight, What I Learned About Investing from Darwin reveals why evolutionary biology can help fund managers become better at their craft.
About the Speaker
Pulak Prasad is the author of What I Learned About Investing from Darwin (Columbia Business School Publishing, May 2023). He is the founder of Nalanda Capital, a Singapore-based firm that invests in listed Indian equities and manages about $5 billion. He was previously the cohead of India for Warburg Pincus, a global private equity firm, and worked at the management consulting firm McKinsey for several years.
This event is FREE, but registration is required. Registered guests will receive the link prior to the program. Register and join event here.