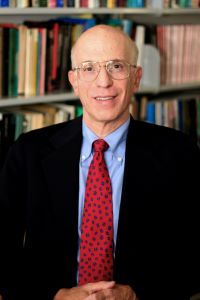 Wednesday, February 15, 2023 | 12:00 PM to 1:00 PM
Alan Blinder, one of the world's most influential economists and one of the field's best writers, discusses his latest book, in conversation with renowned economic historian and former MoAF Chairman Richard Sylla. In A Monetary and Fiscal History of the United States, 1961-2021, Blinder draws on his deep firsthand experience to provide an authoritative account of 60 years of monetary and fiscal policy in the United States. Spanning 12 presidents, from John F. Kennedy to Joe Biden, and eight Federal Reserve chairs, from William McChesney Martin to Jerome Powell, this is an insider's story of macroeconomic policy that hasn't been told before.

Focusing on the most significant developments and long-term changes, Blinder traces the highs and lows of monetary and fiscal policy, which have by turns cooperated and clashed through many recessions and several long booms over the past six decades. From the fiscal policy of Kennedy's New Frontier to Biden's responses to the pandemic, the book takes readers through the stagflation of the 1970s, the conquest of inflation under Jimmy Carter and Paul Volcker, the rise of Reaganomics and the bubbles of the 2000s before bringing the story up through recent events―including the financial crisis, the Great Recession and monetary policy during COVID-19.
Alan Blinder is a professor of economics and public affairs at Princeton University and a regular columnist for the Wall Street Journal. He served as a member of President Clinton's original Council of Economic Advisers and then as Vice Chair of the Board of Governors of the Federal Reserve System in 1993–1996. Blinder has written scores of scholarly articles, and authored or co-authored 21 books, including the best-seller After the Music Stopped (2013) and Advice and Dissent (2018).
Richard Sylla is professor emeritus of economics and the former Henry Kaufman Professor of the History of Financial Institutions and Markets at the NYU Stern School of Business. He is the author or co-author of several books, including Alexander Hamilton on Finance, Credit, and Debt; Alexander Hamilton: The Illustrated Biography; and Genealogy of American Finance. He was chairman of the Museum of American Finance from 2010-2020.