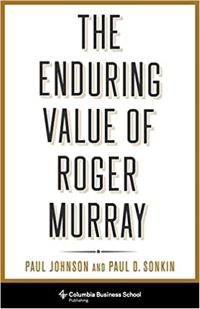 Tuesday, January 31, 2023 | 5:00 PM to 6:00 PM
Event Location:
Fordham University – Lincoln Center Campus
140 West 62 Street, McNally Amphitheatre | Ground Floor
Please note: This event has reached capacity.
Join us for an in-person event on The Enduring Value of Roger Murray, a new book by Paul Johnson and Paul Sonkin. Roger Murray (1911–1998) was a crucial figure in the history of value investing as the successor to the legendary Benjamin Graham as professor of securities analysis at Columbia Business School, where he mentored a generation of students. He also was a renowned economist, chairman of the College Retirement Equity Fund Finance Committee, a prolific author of financial journal articles and a thought leader in the development of pension funds, including the individual retirement account.
Authors Paul Johnson (Founding Partner, Nicusa Investment Advisors and Adjunct Professor, Fordham University Gabelli School of Business) and Paul D. Sonkin (Former Co-Portfolio Manager, TETON Westwood Mighty Mites Fund) will discuss Murray's work and enduring influence with two of his most successful students, Mario Gabelli and Leon Cooperman.
Free copies of the book will be distributed and a book signing will occur following the discussion.
This event is free for MoAF members and supporters; $25 for non-members. Registration is required and space is limited.