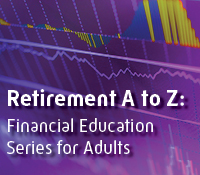 Tuesday, March 14, 2023 | 12:00 PM to 1:30 PM
Join the Museum, in partnership with the New York Public Library's Thomas Yoseloff Business Center, for a free eight-part series on Retirement Planning. These programs are designed to introduce you to the many possible sources of retirement income and resources, including social security; Medicare; pension options including 401(k)s, individual retirement accounts and annuities; as well as the complex issues faced when planning for loved ones with wills and/or trusts. The series aims to provide participants with the information needed to help them secure their finances for the future.
The speakers include professionals from the Financial Industry Regulatory Authority (FINRA), the Social Security Administration, the Health Insurance Counseling and Assistance Program, the U.S. Department of Labor (EBSA) and an Elder Law attorney to guide you through the process.
The series kicks off on Tuesday, January 24, 2023 at 12 noon and continues each Tuesday at noon through March 14, 2023. Each program builds on the knowledge gained from the previous session! Register for each program separately below.
January 24: Retirement in the Age of Longevity Join us for the series kick-off event with Ric Edelman, nationally acclaimed financial advisor and #1 New York Times best-selling author.
January 31:Understanding Your Social Security Benefits Vincent Scocozza reviews when you are eligible to receive retirement benefits, how early retirement affects your benefits, the requirements for spousal benefits, survivors benefits, and when you should file for Medicare.
February 7: The Importance of Retirement Planning Gerri Walsh reviews the importance of compound interest and the many tax-deferred opportunities that help individuals plan for a comfortable and stress-free retirement.
February 14: What You Should Know About Your Retirement Plan Learn about different types of retirement plans, including defined benefit plans, and defined contribution plans such as 401(k) plans.
February 21: Individual IRAs & Employer-Sponsored IRA Plans: What You Should Know Learn how to establish your own IRA , the different types of IRAs available to you e.g. Roth, Traditional, Rollover, and how to determine which best suits your retirement objectives.
February 28: Annuities Learn about the general characteristics of each type of annuity and get tips and questions to ask before you buy.
March 7: Trust in Your Trust (Part 1): Wills & Trusts 101 Learn the differences and advantages of both Wills and Trusts.
March 14: Trust in Your Trust (Part 2): Wills & Trusts 102 Learn about the different types and purposes of trusts as well as the important documentation for long-term care planning.