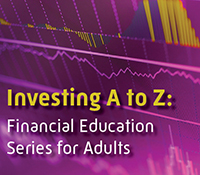 Wednesday, July 6, 2022 | 12:00 PM to Wednesday, August 31, 2022 1:30 PM
Join the Museum, in partnership with the New York Public Library's Thomas Yoseloff Business Center, for a nine-part virtual series on investing. Designed to lead you through basic investment concepts, the series aims to provide participants with a greater understanding of what professional investors look for when reviewing stocks, bonds, mutual funds and options. Learn about interest rates and economic indicators and how they impact markets.
The speakers include investment specialists from the Financial Industry Regulatory Authority (FINRA), the Securities and Exchange Commission (SEC), distinguished professors from Fordham University and New York University, as well as Wall Street investment professionals.
The series begins on Wednesday, July 6 at 12 noon and continues each Wednesday at noon through August 31. Each program will build on the knowledge you have gained in the previous session! Or participants are welcome to register for individual programs.
Register for each program separately by going to: